Birthstone Jewelry Guide
Birthstones are gemstones that accompany a birth month, each having a unique meaning and historical significance. The popularity of birthstones dates back to ancient times when civilizations believed that gemstones had incredible powers such as luck, health, and prosperity.
Traditionally, each month is associated with a single gemstone, but as you'll find below there are a few months with multiple  birthstones. The origins of birthstone beliefs date back to the priestly breastplate worn by Israelite High Priests.  According to The Book of Exodus description, the breastplate contained twelve different jewels, each representative for a particular tribe.
The biblical stones enclosed in the Breastplate of Aron are Sardius, Topaz, Carbuncle, Emerald, Sapphire, Diamond, Ligure, Agate, Amethyst, Beryl, Onyx, and Jasper. 
The birthstones associated with birth months today are not necessarily the same ones that were used in ancient times. In those days, the color was the most important feature of a gemstone so they did not distinguish between gems the way we do today. For instance, they did not distinguish between a Ruby and a Garnet, or between a Sapphire and a Lapis Lazuli. Thus, ancients used to call all red stones Ruby, all purple gems Amethyst, all blue stones Sapphire, all green gems Emerald, and so on.
One of the reasons why ancient birthstones do not correspond with contemporary birthstones is that many of the latter were unknown before the era of the Roman Empire, and some even before the 2oth century.
Birthstones and gems, in general, have different vibrations and forces. Gemologists say that during the Middle Ages, the jeweler was regarded as an apothecary. Before buying a ring or a necklace consider the date of your birth and take advice from someone specialized in the power and healing energies of gems. He or she will advise you on the gemstone that is best suited to you.
Nowadays, gifts of gemstone jewelry with a loved one's birthstone are very popular because of the desire to wear beautiful color as well as something which has personal significance. You don't need to become a gemstone or birthstone expert to find the perfect gift. Whether you're looking for a gemstone ring adorned with the birthstone of a child, or a beautiful set of birthstone earrings, we're here to help!
Our list below represents the modern birthstone list endorsed by the American Gem Society. This dates to 1912 when it was adopted by the American National Retail Jewelers' Association. However, there are various alternates according to different cultures and customs.
Birthstones by Month
---
JANUARY BIRTHSTONE: Garnet
Born in the first month of the year? Discover everything there is to know about your birthstone in our extensive January Birthstone Jewelry Guide.

FEBRUARY BIRTHSTONE: Amethyst
Learn more about this incredible healing crystal in our in-depth post on Amethyst meaning and healing properties.

MARCH BIRTHSTONE: Aquamarine
A fascinating world of myths and facts is waiting to be discovered right here, in our March birthstone jewelry guide.

APRIL BIRTHSTONE: Diamond
Find out all you need to know about the birthstone of April, plus a Diamond jewelry guide in our post.

MAY BIRTHSTONE: Emerald
A symbol of growth and rebirth, Emerald radiates with positive energies. More about the birthstone of May, here.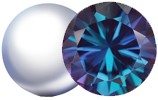 JUNE BIRTHSTONES: Pearl, Moonstone, Alexandrite
Access the spiritual realm of June's birthstone Triad and discover more about what the three precious gems have in common.
JULY BIRTHSTONE: Ruby
The intense, fiery red gem is a symbol of power, passion, and vital energy. Find out more about the Gem of All Gems in our special July birthstone jewelry guide.
AUGUST BIRTHSTONES: Peridot and Sardonyx
Discover the world of facts and fantasies surrounding the two exquisite birthstones for August.
SEPTEMBER BIRTHSTONE: Sapphire
Find out more about this powerful royal gem in our post on Sapphire meaning and mysterious properties.
OCTOBER BIRTHSTONES: Tourmaline, Opal
Curious about the meaning, properties and miraculous uses of these two beautiful gems? Discover more about their powers in our October birthstone guide.
NOVEMBER BIRTHSTONES: Topaz, Citrine
For more insights into Citrine's purposes and powers as one of the November birthstones, access our post.
DECEMBER BIRTHSTONES: Tanzanite, Zircon, Turquoise
Discover more about the curious case of these three beautiful and powerful gems  in our December birthstone jewelry guide.
As mentioned above, there are variations of the list provided today by the American Gem Society. See below how birthstone-related beliefs differ from age to age, and culture to culture.
According to Arabian esoteric thinkers from the fifteenth century, the birthstones corresponding to the twelve months of the year were the following:
January: Garnet
February: Amethyst 
March: Bloodstone, Aquamarine
April: Diamond
May: Emerald
June: Pearl, Moonstone
July: Ruby
August: Sardonyx, Peridot
September: Sapphire
October: Opal, Tourmaline
November: Topaz
December: Turquoise, Lapis Lazuli
Many of the birthstones assigned to each month have stood the test of time. However, during the second half of the 20th century and the beginning of the 21st century, American jewelers have made the following modifications:
Alexandrite was added to June in 1952 by the Jewelry Industry Council of America.
Citrine was added to November the same year.
Pink Tourmaline was specified as ne of the October birthstones.
Lapis Lazuli was replaced with Zircon and Tanzanite in 2003.
Bloodstone, one of the traditional birthstones for March, was erased from the list in 2003.
Sardonyx, one of the traditional birthstones for August, was erased from the same list in 2003.
Also, there are the modern Astrological Birthstones you should know about as many associated values are to be found in connection with the twelve signs of the zodiac. Astrologers claim that the true correspondence of birthstones is as follows:
Aquarius (January 20 to February 18): Onyx, Crystal
Pisces (February 19 to March 20): Coral, Amber
Aries (March 20 to April 20): Amethyst, Bloodstone
Taurus (April 21 to May 20): Emerald, Carnelian
Gemini (May 21 to June 21): Aquamarine, Hematite
Cancer (June 22 to July 22): Pearl, Moonstone
Leo (July 23 to August 23): Ruby, Jade
Virgo (August 24 to September 22): Tourmaline, Beryl
Libra (September 23 to October 23): Sapphire, Opal
Scorpio (October 24 to November 22): Agate, Malachite 
Sagittarius (November 23 to December 20): Lapis Lazuli, Topaz
Capricorn (December 21 to January 19): Turquoise, Garnet 
As concerns cultural variations, birthstones differ from the above-mentioned lists quite significantly when it comes to Eastern customs and beliefs. Here is the Hindu birthstone calendar:
January: Serpent Stone
February: Chandrakanta
March: Gold Siva-linga
April: Diamond
May: Emerald
June: Pearl
July: Sapphire 
August: Ruby
September: Zircon
October: Coral
November: Cat's-Eye
December: Topaz
Additionally, there are Birthday birthstones you should know about as well, classified in accordance with each day of the week. These correspond to the power and characteristics of mythological figures such as Jupiter, Mars, Venus and Saturn.
Birthstones by Day
MONDAY BIRTHSTONE: Moonstone Pearl (The Moon)
TUESDAY BIRTHSTONE: Ruby, Garnet (Mars)
WEDNESDAY BIRTHSTONE: Amethyst, Tanzanite (Mercury)
THURSDAY BIRTHSTONE: Sapphire, Emerald (Jupiter)
FRIDAY BIRTHSTONE: Emerald, Peridot (Venus)
SATURDAY BIRTHSTONE: Labradorite, Turquoise (Saturn)
SUNDAY BIRTHSTONE: Sunstone, Golden Topaz (The Sun)
Beautiful Example of Birthstone Jewelry for Moms
Stunning Birthstone Rings For Him
Birthstone Jewelry Ideas for Children
Further Reading
For more helpful information about birthstones and gemstones, in general, here are a few books that will stir your curiosity.
George F. Kunz – The Curious Lore of Precious Stones (1913), Philadelphia, J.B. Lippincott Company
Although the book was written in 1913, it is still considered as one of the important resources on the subject of precious gems. The author discusses stone symbolism, superstitions, and their mystical uses.
Bruce G. Knuth – Gems in Myth, Legend and Lore (2007), Jewelers Press
This revised edition brings into view interesting information about how gemstones were regarded and referred to in global mythological theories and folk-culture.
Walter Schumann – Gemstones of the World (2009), Sterling Publishing Company
This volume is particularly useful to hobbyists interested in checking the genuineness of the gems they purchase. The book contains over 1,500 color photos featuring each precious and semi-precious stone you can imagine. Each entry is accompanied by details about the gem's physical properties and other characteristics related to its formation and structure.
Joel E. Arem – Gems and Jewelry (1975) – Bantam Books 
Recommended for beginners, this is a good reference for those who look for a small and comprehensive guide to precious stones and jewelry. It comes with 186 illustrations.
Gem lovers and wearers should also take a look at the American Society of Gems' Birthstone Page.
Photo Credits: Realmomreviews.net, Pinterest, Artfire.com.